HOW TO MONOGRAM A SWEATER WITH AN EMBROIDERY MACHINE
HOW TO MONOGRAM A SWEATER WITH AN EMBROIDERY MACHINE We all have old sweaters, hoodies, shirt ..
HOW TO MONOGRAM A SWEATER WITH AN EMBROIDERY MACHINE

We all have old sweaters, hoodies, shirts just collecting dust in our closets. We have had them for a while, and we neither wear them anymore because they are worn out nor do we want to throw them away. The internet is always brimming with DIYs and ideas on how to upgrade your old clothes. One of such ways of revamping your old sweaters is to add monograms on it using an embroidery machine! All fellow embroiderers are familiar with the basic know-how on how to use your embroidery machine, adding the stabilizer, the different types of threads used for different types of fabrics. In this article, we will learn about taking your skills up a notch, and learn how to monogram a sweater with an embroidery machine.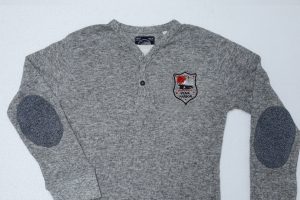 It may be confusing to understand how you can monogram on your clothes using an embroidery machine, since the tools used and the programming of the machine is mainly for embroidering. However, there is not a major difference between monogramming and embroidering; in fact, there are more similarities between these two than differences. You can use the same programming, tools you would ordinarily use for an embroidery project with a sewing machine. The major difference is that embroidery is done on large and intricate designs whilst monogramming is used for creating logos and initials, which is why a monogramming project takes less time to complete than an embroidery project since the space used and the design is smaller in comparison.                
WHY MONOGRAMS ARE USED?

Monograms are used to customize or indicate ownership. Monogram designs usually include a letter or two along with borders or delicate lines. Brands use monograms as a way to brand their merchandize and create a brand image. You can also use monograms on your embroidery projects to build your own brand identity among your new and existing customers.
SUPPLIES YOU WILL NEED FOR THIS PROJECT
HERE'S A LIST OF THE ITEM YOU WOULD NEED TO GATHER BEFORE STARTING THE PROJECT!
Embroidery machine
Your sweater

Thread 

Embroidery needle or sewing pins

Cut-away or no-show mesh stabilizer 

Water-soluble topping

Temporary fabric adhesive

 
Marking tools (example: fabric marking pen or chalk, invisible ink pens)
Sharp scissors
An attractive Monogram design
    STEPS TO MONOGRAM A SWEATER WITH AN EMBROIDERY MACHINE 

1. CHOOSING A DESIGN:

By this time, you would already know that embroidery machines also come with a set of various designs, lettering and software specific for monogramming which is easy to use and navigate, which also gives room for experimenting and playing around when creating your designs. This also helps in finalizing the design and then embroidering the final version on the sweater.

Once you have decided the design you aim to monogram on your sweater, go to the embroidery machine and input the letters or numbers you want to monogram, along with the font and the size of your design.

Since monogramming is done with initials and letters, the size of the design is very important and should be in proportion with the area of the sweater the design is monogrammed at.

2. MARKING AND PLACING THE STABILIZER:

This next step can be done before adding your design on the machinery, or this can also be done simultaneously to the first step. For this step, mark on your sweater using the fabric marking pen, chalk or invisible ink pen) the chosen area and position where you would monogram the design. Another method of making your mark on the sweater is by making a straight line at the spot chosen for your design.

Pick out your own choice of stabilizer, either a mesh stabilizer or a cut away stabilizer, and apply it on the back of the reversed sweater with a spray. Cut the piece of mesh at least an inch larger than the hoop and to the monogram design, and ensure that this stabilizer is placed over the center of the monogram design.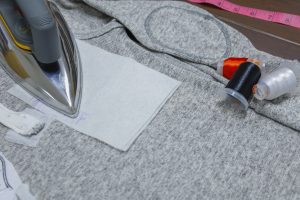 Placing the hoop is an important step and often requires practice and understanding before you place it on the final product. The concept of hooping is a fun one, and you can read our articles where we have talked in depth about hooping on the machine embroidery for your embroidery machines. The materials and process of monogramming is almost similar to that of embroidering, so if you have practiced and already familiar with hooping, it will be easier for you to place the hoop on your sweater.

Key point to remember is to place the stabilizer before placing the hoop since the stabilizer prevents the sweater from moving while monogramming. Now you need to stick the sweater on the stabilizer which has already been hooped.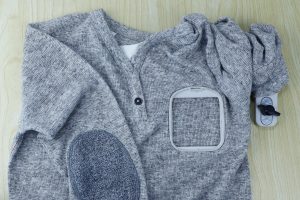 And now, the final and most exciting part of this project!
Fellow embroiderers, once you have input the design of your choice, placed the sweater secured with the stabilizer and the hoop in place, and also have chosen a bright color of the thread which will add a pop and wow factor to the design, switch on your machine and let it work its magic!

5. REMOVE STABILIZERS AND HOOP

When you are done embroidering, detach the hoop and remove the stabilizer from the back of your sweater. If there are any extra threads sticking out, cut them to give a clean look and remove the water-soluble topping from the sweatshirt. You have now successfully monogrammed a sweater using an embroidery machine.
SOME KEY POINTS TO REMEMBER

Monogramming projects are really fun to work on especially since they are made for gifts and repurposed old clothes. Before setting up a shop or starting a new project, always practice designing with different types of styles, fonts, sizes and colors. Different threads work on different types of fabrics and some software are designed specifically to work with certain fonts and styles. Since embroidering and monogramming are similar to each other, you can use your embroidery skills and adapt them to your monogramming projects.
CONCLUSION

The topic of monogramming may sometimes be overlooked and not be deemed important in machine embroidery because it does not exactly fall within the ambit of embroidery 101. However, many embroiderers learn monogramming since it is a niche market and attracts many customers. Specializing in it, therefore ups your game in the business and attracts many consumers who prefer intricate personalized gifts for their loved ones. If you find this blog interesting and helpful, and you want any assistance you can explore more by using this link https://candlethreadusa.com/.  You can get information and guidance regarding aspects related to embroidery and monogramming.
---
Copyright © 2017 Candle. All rights reserved.